Anthony has been with the fraternityx guys for nearly a year. When we first met him he was selling marijuana on campus and since he moved in this dude simply can't get enough of our dicks. He's sucking cock 24/7, and he also pretends to not enjoy it. From time to time he gets ass fucked too. Such is the next video. Seriously Anthony, we all know you like it! Since you guys loved the stud getting his face double fucked two updates ago, today he comes back with the same kind of content for you, and he was all prepared to put on a good show too.
The cameras start to roll, and as we've said, this guy was all eager and ready to get started and work those three nice and big meat shafts for today. Sit back and let him entertain you as once more he whips out the nice and big cocks, and he starts to suck and slurp on them with a passion. But this time he goes one step further as he wants to take it in the ass too. So like we said his buddies oblige once more and double penetrate his cute butt as well making him moan in pleasure for this amazing and fresh scene today.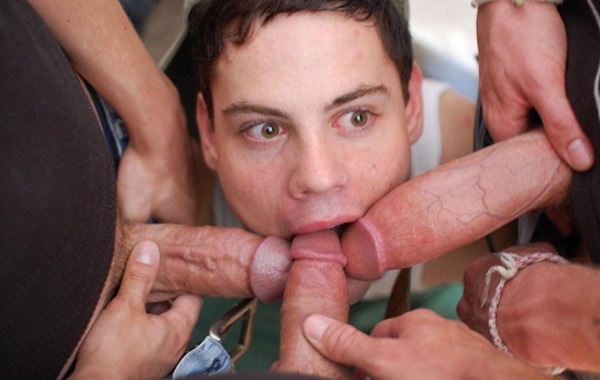 Enjoy as this slutty teen works on three cocks at once!