Everybody in the fraternityx house fucks Jake. His butt is available for all. Last day Cody and another dude wound up tag teaming his ass in the upstairs bedroom. They had a lot of fun face fucking him and muck more fun by plowing his hole. Regardless how much dick Jake takes he's never satisfied. Well let's get this show started and see the group of studs in action as they get to have some sweet sexual fun for your viewing pleasure today shall we? We bet you are eager to see them as well.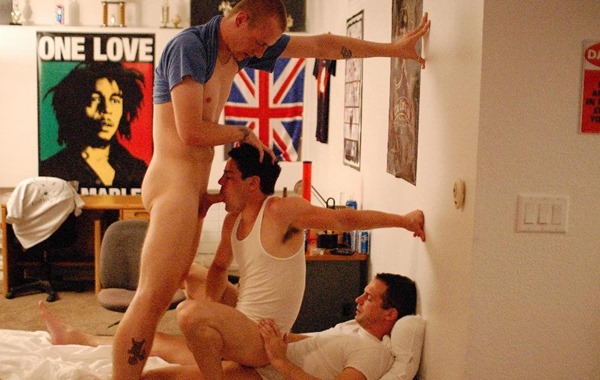 Like we said, Jake is the one to take it in his ass, and you cannot miss this guy's superb scene as he gets fucked. Watch as he takes off his pants, and see one of the guys going straight for his nice and round ass today. And you can't miss seeing this guy moaning in pleasure as he gets his sweet ass fucked nice and deep by that guy. And of course, meanwhile, their other friend is sitting on the chair and jerking off at this scene, while he waits his turn to pound that nice and tight ass today!
Check out as Jake gets doggy fucked by a couple of guys!