Check this free fraternity x videos to see real action with real gays, Hard cock is what you want, double fucked means more of what you want. Dustin is a sexy little Canuck learning here at ASU. He just appeared at our front door after a weekend of excessive drinking in Tempe. His nose had been busted up after some fight outside the local pubs and he wanted a place to crash. Angelo and Roman needed a taste of his nice smooth ass. Dustin is aware that nothing at all in this house is free. Dustin happens to be one cock hungry man slut and today was looking for a nice overload of cocks to suck.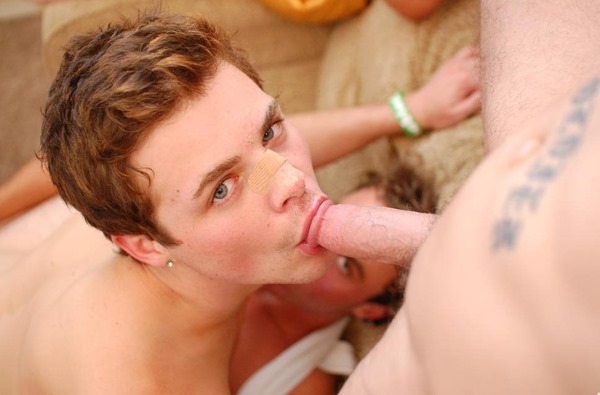 Lucky for him, all of his fuck buddies were more than willing to let this dude have their cocks, because it just so happens that this guy gives the best blow jobs around. So in this scene you can rest easy knowing that you will see the sexy stud Dustin sucking lots and lots of cocks for the whole afternoon for his fuck buddies. Sit back and relax as the scene starts and this stud gets straight to work. You just need to see this stud sucking on slurping on all the cocks he gets, and of course also get to watch him giving two guys head at once in a nice double blow job scene too. We'll be back next time with some more so stay tuned!
Enjoy as this slutty boy gets his mouth double fucked!