Anthony met Myles for the first time while taking a Chemistry class at ASU. Anthony caught poor Myles checking out dudes butts between classes so after a few weeks of buttering him up, Myles gave into his charm. Anthony invited him at the fraternity x house for his initiation. Myles really loves college and he just adores this kind of party too. Well rest assured he'll be having plenty of them from now on in this frat house from now on too. So let's see this initiation process and watch everyone just having a good time fucking each other.
The thing is that Miles was obviously really happy to be on the receiving end today and since he was, all the studs with the biggest cocks lined up to test his butt. The joke's on them though as he's pretty used to taking monster cocks in his fine and sexy ass. So sit back and enjoy the others getting turns to slam their balls against his ass as they give his nice and firm butt a superbly hard and sexy ass fucking for this afternoon. And oh, don't forget to see Miles covered in jizz at the end of the scene for today as well. See you soon!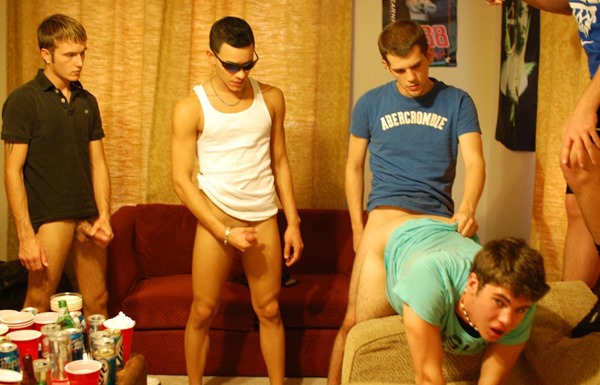 See this college dude taking multiple cocks from behind!